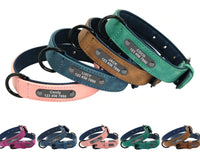 Our No.1 Best Selling Personalized Leather Dog Collar With Name and Phone Number
Avg. Reviews: ⭐⭐⭐⭐⭐ 4.9 / 5
📦Over 10,000+ units sold worldwide!
🐾Gift Your Dog A Unique Personalized Dog Collar Today!
Personalize this collar
Personalized Dog Collars with name
We deliver quality products, with over 30,000 reviews to prove it!
I ordered 3 personalized dog collars with name and they all came very well stitched. Shipping was fast and I will definitely recommend their products!

Maribel P.
I accidentally ordered the wrong size and they helped me out and dealt with it very professionally. It was totally my fault and they provided exceptional customer experience!

Horace C.
I've purchased many dog collars from various companies before and I can say that PupsCloset are the best in terms of the quality of their products. I absolutely love their personalized leather dog collars!

Ronaldo H.